The SHOCKING Details of Gov. Newsom's PG&E Bailout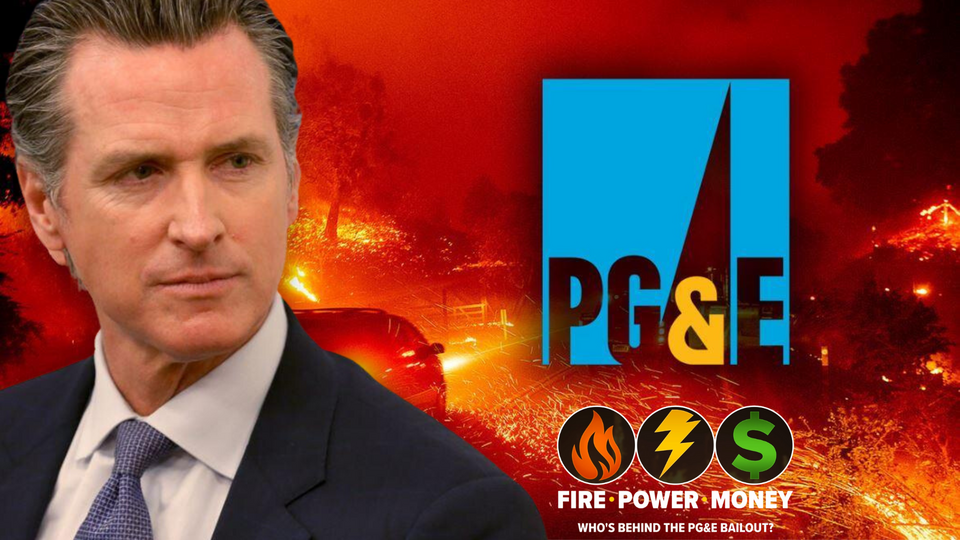 The controversial PG&E bailout law passed in 2019 reveals much about the pitfalls of policymaking when deep corporate interests are at play. AB 1054 brought together regulatory failure, legal ethics breaches, and perceived neglect of public welfare for private gain. The opaque process cast a pall over victims' rights, taxpayer protections, and incentives guiding California's largest utility.
From negligence liability caps to cost-sharing mandates, the law's provisions appeared molded to serve PG&E first and foremost. By tapping a law firm with known PG&E ties to draft it in secrecy, Gov. Newsom invited conflict of interest criticisms. The alleged disregard for competitive bidding rules underscores the backroom dealing.
Beyond implications for wildfire survivors, the bailout signals worrying governance trends in California. Utility oversight fell short despite past PG&E tragedies. Landlord-tenant laws proved powerless to compel safety upgrades to PG&E's neglected housing. Corporate lifelines bred public distrust.
Ultimately, the episode illuminates how behind-the-scenes influence can guide policy away from the public interest. As California confronts future crises, PG&E's bailout stands as a teachable moment demanding transparency and accountability from leaders. The public welfare, not just special interests, must shape policy.
The controversial law limiting PG&E's wildfire liability also sheds light on Governor Newsom's questionable dealings with the utility giant. Newsom fast-tracked AB 1054, legislation capping PG&E's financial exposure for fires its equipment caused, including the deadly 2018 Camp Fire.
The governor retained law firm Jenner & Block, which had represented PG&E, to draft the bill without competitive bidding, raising ethical concerns. Critics allege Newsom prioritized shielding PG&E over securing justice for wildfire victims impacted by the secretive process. Records show the firm profited heavily from drafting legislation benefiting its former client.
PG&E's Checkered Past Plagues California
PG&E's faulty power lines have sparked some of California's most destructive wildfires in recent years. In 2018, PG&E equipment ignited the Camp Fire in Butte County, the state's deadliest and most destructive fire to date [5]. It killed 85 people and destroyed over 18,800 structures.
The utility giant also took the blame for 12 Northern California wildfires in 2017, including four major fires in wine country that combined destroyed over 8,900 buildings and killed 22 people [6].
PG&E faced $30 billion in liabilities for the wildfires [7]. It filed for Chapter 11 bankruptcy in January 2019, hoping to restructure its finances and continue providing electricity to 16 million Californians. But many questioned if the company deserved a lifeline given its long history of safety failures, including the 2010 San Bruno gas pipeline explosion that killed 8 and destroyed 38 homes [8].
Gov. Newsom's Close Ties to PG&E
Gov. Newsom has personal connections to PG&E that present potential conflicts of interest. His winery received over $500,000 from PG&E for advertisement services prior to becoming governor [9].
His 2018 gubernatorial campaign also benefited from over $208,000 in contributions from PG&E [10], making the utility his second-highest contributor.
As lieutenant governor in 2016, Newsom approved the appointment of an old friend and former PG&E attorney to the California Public Utilities Commission, which regulates PG&E [11].
Newsom Denies PG&E Bailout Conflict Despite Shady Dealings
Less than six months after taking office, Gov. Newsom hired Jenner & Block to draft wildfire legislation to get PG&E out of bankruptcy. The firm had previously done legal work for PG&E related to its role in various California wildfires [12].
Emails revealed the governor's office had contacted the firm in February 2019 to start work before any formal bidding process [13]. By July, Jenner & Block submitted AB 1054 on behalf of Newsom's office.
The law establishes a $21 billion fund to help utilities cover future wildfire costs and liabilities. To access the fund, they must contribute around $10.5 billion [14] and obtain a safety certification. In turn, the law limits a utility's wildfire liabilities to $1.4 billion per year, preventing massive claims that could bankrupt them [15].
What Legal Experts Say
Legal experts slammed the process as unethical and lacking transparency [16]. Records show Jenner & Block made $9 million drafting the legislation that bailed out its former client [17]. PG&E itself spent over $10 million lobbying state lawmakers in the first six months of 2019 to pass AB 1054 [18].
Critics say Newsom ignored California's competitive bidding requirements by handpicking a law firm with clear ties to PG&E [19]. However, Newsom denies any conflict of interest. He claims Jenner & Block was no longer PG&E's law firm by 2019, though the firm continues to represent PG&E in ongoing legal proceedings [20].
While Newsom defends the legislation as an emergency policy to stabilize PG&E, legal experts argue a clear conflict of interest persists. "Just because Jenner & Block no longer represented PG&E exclusively does not negate its past work or financial interest in the company," said Duke Law Professor Marjorie DeVault. "This has all the makings of an unethical quid pro quo."
The legislation benefited PG&E in other ways too. It authorized state-backed bonds for utilities to pay wildfire claims and required cost-sharing between utilities and ratepayers [21]. All the provisions shield PG&E from full liability and shift financial risks to taxpayers and customers.
Fast-Tracked Law Favors PG&E Over Fire Victims
Newsom justified the rushed process by citing the urgent need to get PG&E out of bankruptcy. But consumer advocates say the law focused more on protecting PG&E rather than fire victims [22].
AB 1054 faced little opposition in the state legislature. Lawmakers passed it just three weeks after it was introduced [23]. Newsom signed it into law in July 2019 with modest changes from the initial draft by Jenner & Block [24].
By limiting PG&E's wildfire liabilities to around $1.4 billion annually, the law prevents a repeat of catastrophic liabilities that could force it into bankruptcy. Some estimate it saved PG&E over $11 billion compared to normal bankruptcy proceedings [25].
However, this cap on liabilities denied wildfire victims full restitution. Victims had to compete for a fixed pool of funds rather than directly sue PG&E for greater damages. "The law valued PG&E's bottom line over adequately compensating wildfire survivors," said Rob Stumpf of Victims Voices, a nonprofit advocating for fire victims.
On the other hand, wildfire victims felt cheated by the process. Their lawyers complained the law undercut pending settlement negotiations by capping PG&E's liabilities [26]. Victims would have to compete for a slice of the $21 billion state wildfire fund that also covers future fires.
A probate judge in Butte County even called AB 1054 a "sweetheart deal" for PG&E that came at the expense of fire victims. He argued it encouraged the company's "business model" of neglecting safety [27].
Overall, AB 1054 appears sharply skewed toward protecting PG&E over fairly compensating tens of thousands of wildfire survivors. "The law is an injustice perpetrated by politicians more interested in the company's welfare than lives torn apart by PG&E fires," said Patrick McCallum of Up From the Ashes, a coalition of fire victim groups.
The Controversy Continues
While AB 1054 succeeded in getting PG&E out of bankruptcy, criticism persists. A subsequent audit found the rushed process lacked transparency and oversight [28]. It determined Newsom's office largely ignored best practices for contracting.
In 2022, reporting uncovered that PG&E spent over $1.1 million lobbying public officials as it drafted the wildfire fund legislation [29]. Critics allege the state protected PG&E's interests over those of fire victims [30].
Newsom maintains the legislation achieved the urgent goal of stabilizing PG&E to keep electricity flowing. Still, revelations about corporate influence cast doubt about how fairly the law balanced victims, taxpayers, and the bankrupt utility.
The PG&E bailout law remains highly controversial. Records requests revealed a secretive drafting process involving the governor's office, legislators, lobbyists, and a law firm with ties to PG&E [31]. While the law may have returned solvency to PG&E, many saw it as a handout that cut victims short.
The law will have lasting repercussions for Newsom's legacy. His critics see AB 1054 as a tone-deaf political favor for a massive utility company over vulnerable wildfire victims. This perceived abuse of power could haunt Newsom among constituencies that feel he has lost sight of the people.
With Newsom's ties to PG&E already raising red flags, his dealings around AB 1054 may haunt his political future. It exemplifies the shadowy confluence of corporate influence and political power that many Californians find distasteful. Newsom may wave off conflict of interest claims, but facts suggest otherwise.
PG&E's Dubious History as a California Landlord
PG&E's negligence has not only imperiled lives through wildfires but also endangered tenants in the many properties the utility giant owns.
As one of California's largest landlords, PG&E has repeatedly faced lawsuits over unsafe housing conditions. In 2020, a class action lawsuit alleged that PG&E neglected maintenance and exposed tenants to mold, lead, and asbestos in apartments across six counties [32].
Tenants accused PG&E of violating state landlord-tenant laws by renting hazardous units and ignoring habitability issues. California's Implied Warranty of Habitability requires landlords to ensure properties are fit for human occupation [33].
Critics see this as another example of the company cutting corners on safety to boost profits. AB 1054 engrained this reckless pattern by capping PG&E's wildfire liability.
"AB 1054 signaled PG&E can keep sacrificing safety for earnings, whether it's negligent maintenance or wildfire prevention," said UC Hastings law professor John Whitaker. "California failed to condition the bailout on reforms for this scofflaw utility."
By limiting financial accountability for fires its equipment sparked, the controversial law stripped incentives for PG&E to invest more in safety upgrades and maintenance. Victims in future tenant neglect cases may have even less legal recourse.
The PG&E Bailout: A Cautionary Tale of Corporate Influence
The PG&E bailout law provides a sobering case study of corporate power steering policymaking away from the public interest. By hiring a law firm with clear PG&E ties to draft AB 1054, Newsom invited ethical compromises.
Rushing the complex legislation through with minimal scrutiny resulted in lopsided provisions favoring the negligent utility over vulnerable wildfire survivors. Victims saw the law as stripping away their bargaining power and full legal rights.
Beyond wildfire victims, the bailout deal failed to incentivize meaningful safety improvements to prevent future tragedies. PG&E's persistently questionable conduct as a utility provider and landlord shows how it continues cutting corners.
Ultimately, AB 1054 served to socialize PG&E's costs while protecting its profits and executive pay. Newsom's evasive justification and Teflon's response to impropriety allegations may imperil his progressive credentials.
The saga provides crucial lessons as California confronts future wildfire risks amplified by climate change. Without accountability for safety failures, utilities lack the motivation to invest in resilience. To avoid similar insider deals, legislation with massive public impacts should be crafted transparently.
As for PG&E, reform remains elusive despite the bailout windfall. Californians are united in demanding that elected leaders put lives over lobbyist influence. It remains to be seen whether the PG&E bailout will go down as Newsom's biggest blemish.
Client Reviews
Contact Us Now